COACHING

Clients count on me every day to help transform uncertainty into possibility.
Coaching for international teams
Working in an international environment and not sure how to deal with different cultures, and communication styles? Not sure how cooperate and align better?
Contact me and let us coordinate goals.
Coaching for academic staff
Working at an university as scientist, non-scientist or doctorate? Not sure how to deal with your time management, multiple projects and colleagues?
Contact me and we can explore possibilities.
Coaching for IT-Professionals
Working in an IT environment and getting a bit overwhelmed by deadlines, agile approaches or multi-tasks? Not sure about the next steps in your career?
Contact me and let us manage it.
Certificates & Further Education & Roles
Master in computer science (Dipl. Inf. Univ.), FAU Erlangen-Nürnberg, 1994
Coach Training Program (Coach U) 1996
Founder of business-coach.de, Self-Employed since then, 1998
Siebel Certified Business Analyst, 2000
Ph.D. (Dr. Ing.), FAU Erlangen-Nürnberg, 2000
NLP Practitioner, DVNLP, 2002
NLP Master, DVNLP, 2003
Com Certified Professional Trainer, Com Training Services, 2004
Certified Time Management Trainer and TEMP-consultant, tempus-Consulting, 2008
Psych. Advisor, ALH, 2008
ICF Chapter Host Nürnberg, 2015
(International Coach Federation)
CoActive Coach, CTI, 2017
certified scrum master, scrum alliance, 2017
Coaching for IT-professionals and international teams.
As a coach I support you and your international team in solving problems, reaching goals and getting decisions made. You get your action plans done and maintain a healthy work-life balance.
Entrepreneurs and IT managers in companies know the importance of someone out there who sees what happens and to coach private and business lifes.
You can rely on my knowledge as licenced tempus-consultant for "TEMP-Methode" and as author of "TEMP-Coaching" (book will be published January 2017). Both methods offer you the whole range for companies and individuals. My work with international teams is not limited to these of course. Speaking the language of clients is supported by my experience of intercultural aspects and agile structures.
As a long term member and local chapter host of International Coach Federation I pledge commitment to the code of ethics of ICF.
Looking forward to assist you in your personal growth, your team in better collaboration and reaching the right goals you want to achive.
Personal coaching is done on-site, in my coaching studio or via phone/ Skype/ webmeeting platforms.

Training and roll-out of IT-Systems and processes to end users.
Companies I supported are getting better sales conversions and customer experiences through CRM systems, have faster results reported to their customers with new reporting systems for engineers and are using new software more efficiently now.
Working as a trainer has been a great experience for me since I was allowed to travel so many beautiful countries and to meet such a bunch of great and wonderful people.
Some of my projects have been
Functional roll out of CRM systems
Create Web Based Training
Master trainer to train other trainers
Change Management projects e.g. change from paper based reporting to laptop and internet based reporting for engineers
The biggest joy however has been to see clients grow and change effectively reaching their (learning) goals they wanted to achieve.
Looking forward to train and coach more interesting people on new exciting places!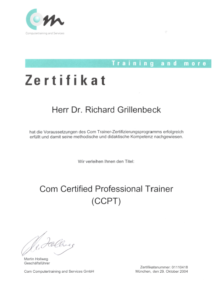 How I assist you in your business

With training and coaching services I bring in
the whole breadth of my experience and knowledge as well as my whole personality.